Butt Translation –
Over ons
Butt vertaal/tolk en juridisch adviesbureau is een klein, maar groeiende tolk- en vertaalbureau gevestigd in Den Haag. Sinds 2005 bemiddelen we voor zowel vertaalwerkzaamheden als voor tolkdiensten op locatie.Zo werken wij op landelijk niveau samen met het CBR en voorzien wij in de bijstand van tolken bij de IND, notarissen, politie en de rechtbanken etc. Bij Butt vertaal/tolk en juridisch adviesbureau hechten we veel waarden aan het persoonlijk contact tussen tolk/vertaler en de cliënt.
Uiteraard beheersen onze tolken de twee talen waarin zij tolken perfect. Bovendien zijn ze getraind in een juiste tolkhouding. U huurt dus geen vertaalmachine of gespreks-robot in, maar vakmensen die zijn doordrongen van het belang van hun functie. Ze zorgen ervoor dat u direct en persoonlijk met uw gespreks-partners blijft communiceren. Alleen dan kan het gesprek vlot en soepel verlopen.

Vraag een verblijvende offerte aan voor beëdigde of onbeëdigde vertalingen.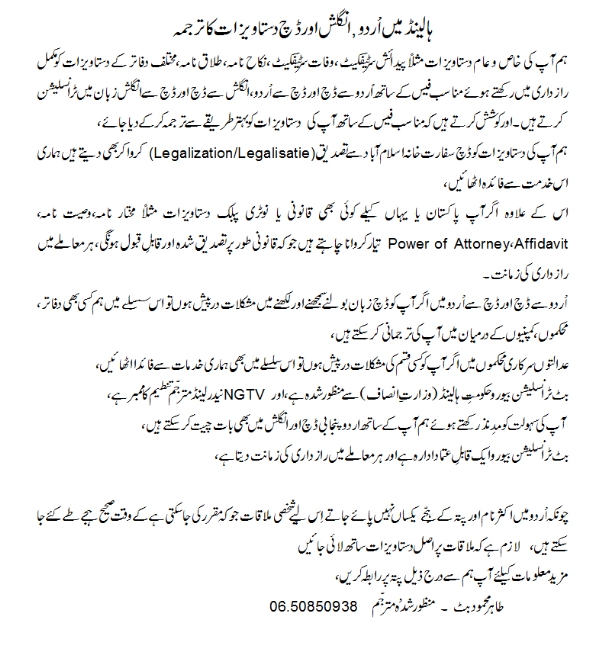 Butt Translation –
English
Translation of Urdu documents into the Dutch language in Holland and Belgium. We offer the services of translation from Urdu into Dutch and vice versa of your ordinary and official documents like birth certificates, death certificates, marriage contracts,(Nikah-Nama) divorce documents, and official correspondence in complete confidence. We charge an affordable fee.
We can also represent you in any office, department, or company. If you feel any difficulty in speaking Urdu or Dutch language.
We can also help you with any difficulty in the court or government departments.
Butt translation bureau is recognized by the government of Holland (Justice Department) and is a member of NGTV, Netherlands translators organization.
To facilitate you, we can also communicate with you in Urdu, Punjabi, Dutch and English languages.
Butt translation bureau is a trusted institution that guarantees secrecy in all affairs.
Usually, the spelling of name and address is not consistent, you can give the spellings of your choice during a meeting with us, which you can arrange by appointment. Please bring your original documents of the meeting.